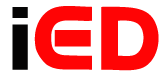 The Journal of Immersive Education (JiED) is the publication of record for the global Immersive Education Initiative

JiED includes feature articles, research and technical papers, Technology Working Group (TWG) publications, and proceedings from Immersive Education Summits (iED Summits).
Immersive teaching and immersive learning

are the heart and soul of Immersive Education (iED) and related iED Summits. Proceedings from iED Summits are published under the Proceedings area of JiED.